The Origins of Groundhog Day - Groundhog at Gobbler's Knoll
Groundhog Day may be associated strongly with the 1993 Bill Murray film (see below), but its origins lie with German settlers in the 18th century. The name Punxsutawney, the town in Pennsylvania where the groundhog ceremony takes place every year, comes from the Indian name for the location "ponksad-uteney", which means "the town of the sand flies".
We have found that when German settlers arrived in the 1700s, they brought the celebration of Candlemas with them. German tradition holds that if the sun comes out on Candlemas, the hedgehog will see its shadow and six more weeks of winter will follow. If no shadow is seen, legend says spring will come early.
The German settles in Pennsylvania continued the tradition but used a *groundhog rather than a hedgehog.
*The groundhog, also known as a woodchuck [Marmota monax], is a member of the squirrel family. Groundhogs in the wild eat succulent green plants, such as dandelion, clover, and grasses.
The first official Groundhog day was on February 2nd, 1887, at Gobbler's Knob, about 65 miles northeast of Pittsburgh, although its first reference can be found in 1841.
Today it is celebrated in the USA and Canada, with the most popular ceremony in Punxsutawney, although there are several others across both countries. Crowds in Punxsutawney can be as large as 40,000, and have increased in popularity since the Bill Murray film.
Punxsutawney Phil, the world's most famous groundhog, has seen his shadow nearly 100 times, has not seen it 15 times, and nine years are unaccounted for; Will and Guy feel it should be noted that he only has an accuracy rating of some 39%.
---
If you would like more information about our club

---
If you would like more information about The Seeing Eye


---
Montgomery County 4-H Center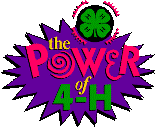 - CHECK IT OUT!
---
Redner's tapes

- if you shop at Redner's please ask for a tape card and have the clerk swipe it when you check out - it organizes your receipt so Puppy Club can get money back (must use tape card). Just label an envelope with "Redner's" and every time you get a receipt place it in the envelope. Bring receipts to a club meeting and give them to Kate Christi.